The only thing you need to do is to try...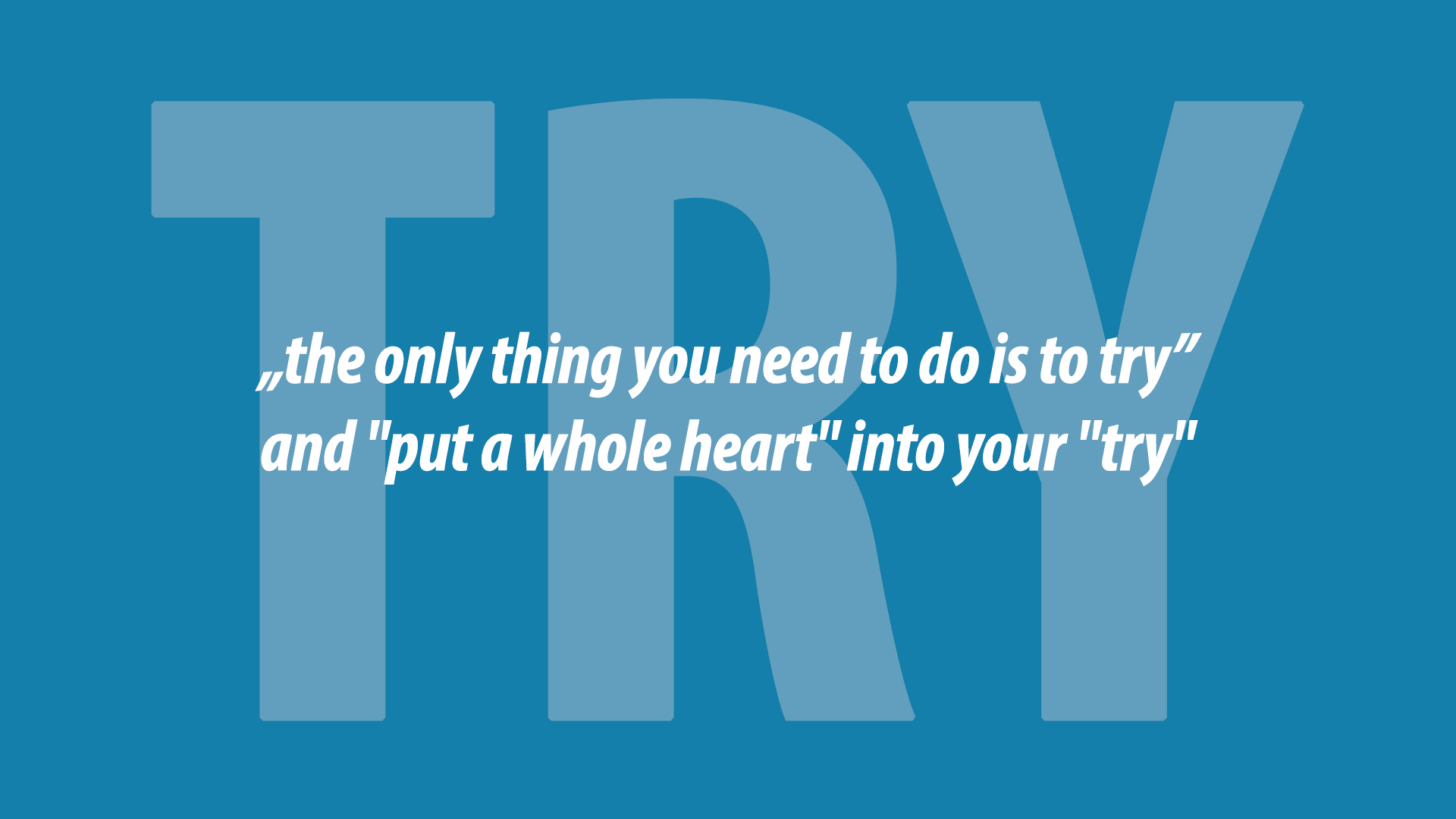 Someone said, "the only thing you need to do is to try".
What I would add from myself is to "put a whole heart" into your "try".
From this perspective, you can achieve wonderful things, but there is one problem with it. You need to find the other end to give you this opportunity to "try".
We may not always be skilled in what's required, or maybe we are good in a wide range of things, but not the best in this one specific.
If you are such a person, you know what I mean by saying, that it's hard to "try", as not a lot of people want to allow you to do this, worrying that you will not be good at it.
Sometimes you "tried so hard and got so far", but in the eyes of the other end "it doesn't even matter".
"One thing" that may put you down is that "it doesn't even matter how hard you try" if there is no will to put a risk on the table, there is no option to "try", and there is no opportunity to thrive.
How often do we want to get someone to do the job, someone skilled in a task, rather than getting "an average person" and letting them "try"?
In the current world we looking into quick gain, instead of thinking about the long term. I know that from both sides.
Like Simon Sinek well said, it's all about the right mindset. The infinite game mindset is the key to long-term success.
You can see that in the recruitment environment. Either if you are recruiting or you trying to be recruited.
We all, including myself, looking for an employee, for the position that we are filling, to get all the right skills to do the task from day one or shortly after.
We doing this, because we know, how much time and effort we need to put into ordinary people to get them up to speed - trained adequately.
The problem is when these people don't least. You put a precious time and share your knowledge, and the person is just waking away. Or, you give up your precious time to interview the person, and that person does not even bother to show up.
A couple of years back we would not mind hiring a less skilled person, putting time and effort into training or just giving them to "try" and see.
I remember my coworker who was delegated to work with me after "trying" in other departments. He got the right mindset from the start, independently of what type of job he meant to do. He wants to do his job, at the highest level possible can (of course, with the right training by the right people), and that worked.
He receive an option to "try" and he did it. He got a long-term mindset oriented toward exceeding his potential and learning something new.
If we looking into achieving something at a quick pace, we need somebody with the right level of experience and knowledge, who, with just a minimum input will offer maximum output.
In some positions, this will work. Have a look at various salespeople. Hiring somebody who can "sell ice to Eskimos" will work well in short term as well as in long term, as long this person will find it interesting.
Knowing your value, and how good you are at what we doing is important, but this raises a problem as well, at least for the employer.
At the point when an employee knows his value, he can dictate his requirements (in many cases it's all about the money).
At some point, there is no further option for the employer to offer anything more (or extra money is not the solution) and the employee leaves for a place, where they are offered what they want or where they can thrive.
Employees who come with a "try" approach to doing the work, think differently. They know that they are not "perfect" candidates and they need to learn a lot to get to the point when they can say, that they can do their job right.
With the right mindset of the organisation, and what's important, with the right leadership, both parties will benefit.
At times of struggle, both ends will work together to find a solution, to help each other.
Imagine being in a company that suddenly struggles, cannot afford to keep employees and does everything that it can to keep business going.
With the right mindset and leadership, employees will work towards getting things back on track. They will try to help, even if they will need to sacrifice something, that, in the material world we live in, is more important "than being a part of something".
Having a feeling that what you are doing is important, and that the place where you can show your skills and thrive makes you feel like "family", will keep you going.
Every company got ups and downs. What's important is to look, at which employees will stay with the company in "try" times, and which ones will decide to leave.
If you hire a perfect candidate, in times of "try", they are more likely to leave, as they know their value and expectations, and they are not patient enough to see what the future will hold.
The average candidate, who received more from the company in their personal development, comparing what they have been able to offer at the beginning, is more likely to stay in "trying" times.
These "trying" times are crucial for building the team for the future if the leaders got the right mindset.
Employers need to be a leader. They need to inspire people and share their vision and mindset through which they will encourage them to stay in trying time, even when the competition offers something better.
If the leaders know what game they are in, and do not just think about how to balance the books, they will know where they are heading. They will be able to communicate their vision with others in such a way, that they will inspire them, that even if right now is "hard", there is a bright future for us.
But when leaders failed to lead and their mindset in "try" times is changing to a finite game, the spark that they shall maintain in their employees starts fading. With a changed mindset, the employee also will change theirs. Even those who know, that they put their whole heart into what they have been doing, will start thinking about the job in a way, "it pays the bills", and that is all.
This is where the employees, who think about the job like a "family" will move where they can find this feeling again. Possibly with different business.
It is not easy to extinguish the spark in a person with "try" in their heart. Sometimes some benefits may light this and give fuel to go further.
This fuel will sadly not least in infinity. We need leaders who will lead us. We may have as much fuel, as leaders put into "leading".
When "leading" changes into "management" the infinite game-changing into a finite game and the job becomes a place that just "pays the bills".
The spark fades and people leave.
It's difficult to leave something behind if you put so much into it. All your passion and enthusiasm worked toward further development through which the company benefit. It's hard to leave this behind.
At this time it's nice to "try" to find somebody who will carry out the torch, despite that our spark is slowly fading. Somebody may find it as an opportunity for them to "try" and through this move forward.
Follow me on Google News